The Waterford Block consists of fifteen contiguous prospecting licences covering a surface area of c.515km2 in eastern / southeastern County Waterford. The licences that have been offered and accepted by Unicorn Mineral Resources are, PL's 405. 735, 2752, 2754, 3194, 3195, 3205, 3206, 3207, 3208, 3323, 3518, 3570, 3571 and 3574 (see attached map).
The geological setting of the Waterford volcano-sedimentary belt is dominated by Lower Palaeozoic (Cambro – Silurian) aged strata that extend to the northeast through Wexford / Wicklow and across the Irish Sea to Anglesey. Prior to the opening of the Atlantic Ocean (c.65M years ago), the Lower Palaeozoic belt of the SE of Ireland was contiguous with the Canadian Lower Palaeozoic terrain of Newfoundland, New Brunswick and Nova Scotia, where there are a number of highly significant, economic massive sulphide deposits. The Lower Palaeozoic geology in southeast Ireland is highly analogous to eastern Canada and is dominated by a succession of sediments and volcanics that were deposited in an Island / Back Arc setting along the southern margin of the Iapetus Ocean.
Unicorn Mineral Resources rate this area very highly and consider it to be very highly prospective for a range of different deposit types, including:
Volcanogenic Massive Sulphide (VMS) deposits of the Felsic-siliciclastic and Bimodal felsic / mafic sub-classes. These styles of deposit have the potential to form very large, economic, polymetalic (Copper, Zinc, Lead +/- Gold & Silver) orebodies.
Sedimentary Exhalative (SEDEX) style mineralisation associated with more quiescent basin development located along the margins and distal to the main volcanic centres. Indications of SEDEX style mineralisation have been intersected by the limited amount of drilling carried out to date.
There is also significant potential for gold mineralisation and the limited amount of historic exploration for gold has discovered a number of significant indications. Historic stream sediment sampling has detected gold at 67 sites. There are a range of deposit models that are applicable to this type of geological terrain including; shear hosted lode gold, high sulphidation epithermal gold and black shale hosted gold.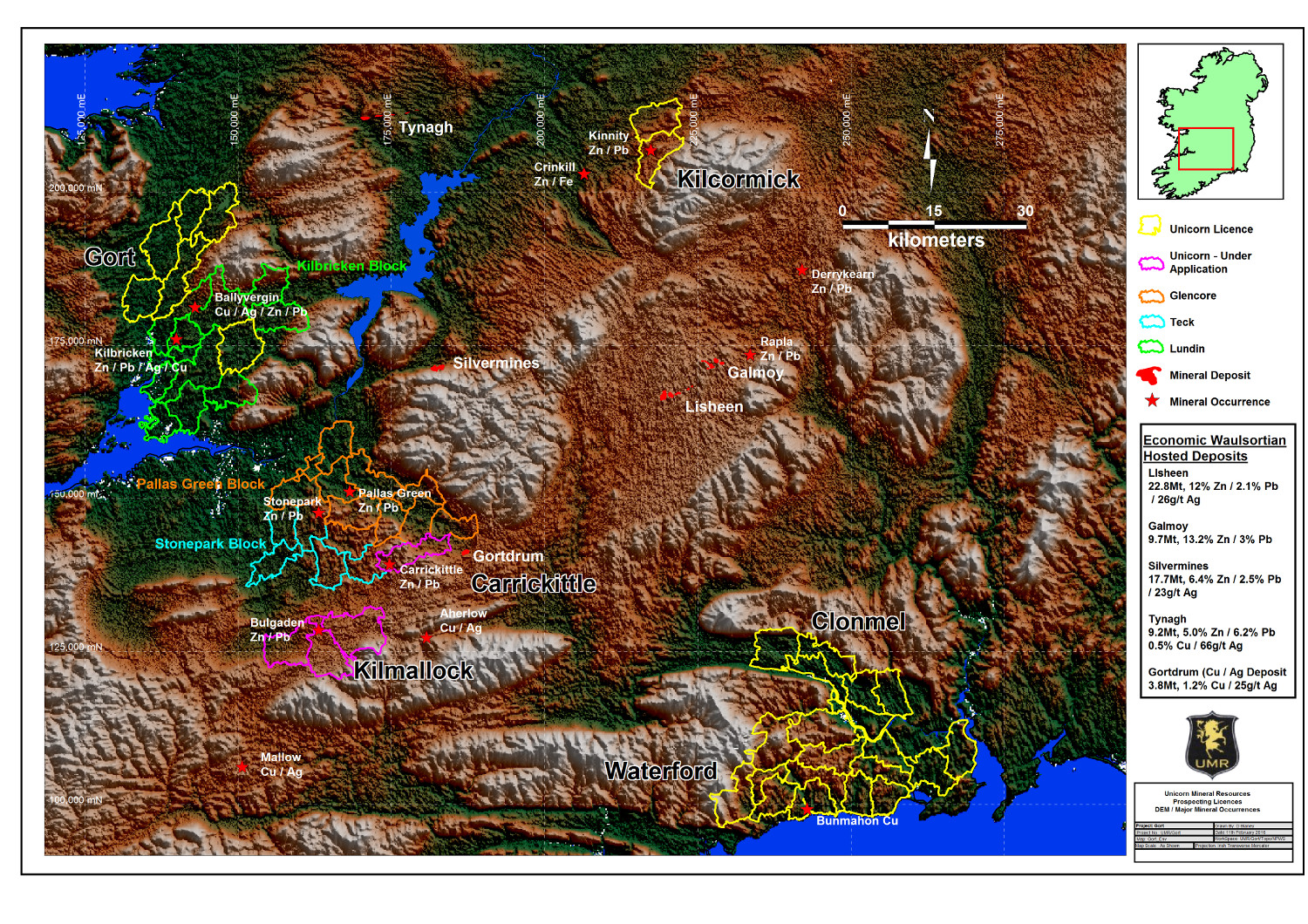 Unicorn Mineral Resources is an Irish mineral exploration company. Unicorn's strategic focus is the exploration for economic deposits of "Irish Type" carbonate hosted Copper/ Lead/ Zinc and Silver mineral deposits in the Irish Midlands Orefield. We have acquired a high class land package using the latest geological, structural and mineralogical models to drive the target generation programme. Unicorn has in house experience and expertise to run exploration programmes and aggressively explore sole venture licences. Unicorn is dedicated to creating shareholder value and will assess exploration and / or development opportunities going forward including potential joint venture partners.